When Country Cooking is What Your Looking.......

Meadow Village Restaurant is a family owned business, famous for our Seafood Buffet and Homemade Desserts, especially our famous Chocolate Pie.

We have a lunch buffet that has food that you normally won't find except your grandma's kitchen. With things like Chicken Pastry, Country Style Steak, and Fried Chicken, we're sure to have something to make your lunch hour happy!

Thursday, Friday, and Saturday nights we have a Seafood Buffet with all your favorites. Shrimp - fried or boiled, Oysters, Clam Strips, Deviled Crab, and much, much more.

Buffet includes both salad bar and dessert bar. The dessert bar has a mouth watering assortment of Homemade desserts, like the Chocolate Pie, Banana Pudding, Strawberry Cake and more!

We can also take our cooking to you by catering all types of events. From buffet style dinner parties to the most elegant of weddings, we do it all.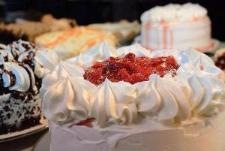 Visit us for lunch Wednesday or Sunday from 11 am to 2 pm and Thursday, Friday, or Saturday from 11 am to 2:30 pm, with the Seafood Buffet beginning at 4 pm. Closed on Monday and Tuesday.